You can add funds to your Dapper Account by navigating to the Home tab in your Dapper Wallet under the Dapper Balance section, using either your credit/debit card, cryptocurrency, or Apple Pay. You can use these funds in your Dapper Wallet for all supported Dapper Services.
You can purchase with both credit and debit cards (Visa, Mastercard, or American Express). This is the best option to score packs quickly.
Cryptocurrencies can be used with your preferred digital wallet in Bitcoin (BTC), Ether (ETH), Bitcoin Cash (BCH), DAI, and USDC. Please note, these are the Ethereum versions of both USDC and DAI. We do not support any other USDC or DAI token variations.
You can also complete transactions with your preferred method using Apple Pay. Please note, this is only available on the Safari web browser.
The best way to maximize your Dapper experience is to purchase using Dapper Balance. It is the easiest and quickest way to buy NFTs from their respective Marketplace. In addition to making purchases, when you make a sale in the marketplace (congrats!) the funds from that sale will be added to your Dapper Balance.
How to Fund Your Dapper Wallet
1. Navigate to your Dapper Wallet and select Home from the menu on the left. From there, you'll be able to see Dapper Balance on the homepage and you can select the Deposit button to begin adding funds to your account.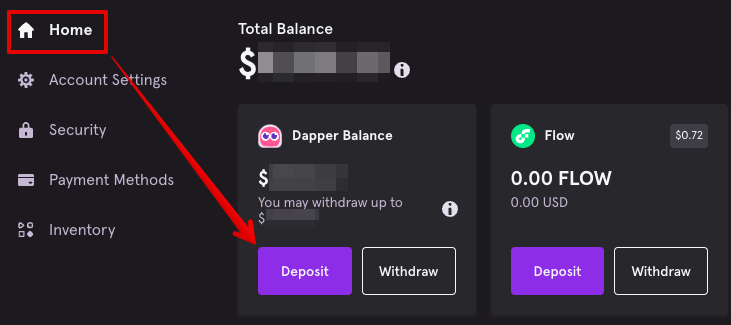 2. A pop-up window will show up and you will be asked to input the amount you wish to deposit in USD. Once you've decided how much you'd like to deposit, accept the Terms and Conditions and then click Add Funds.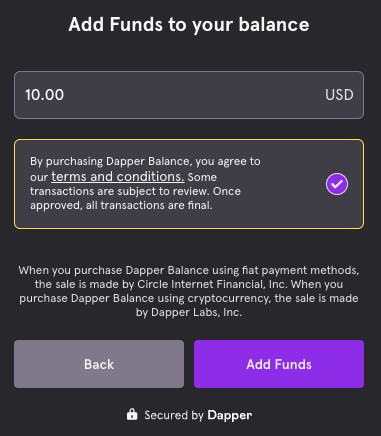 3. Then select your payment method of choice and confirm your purchase.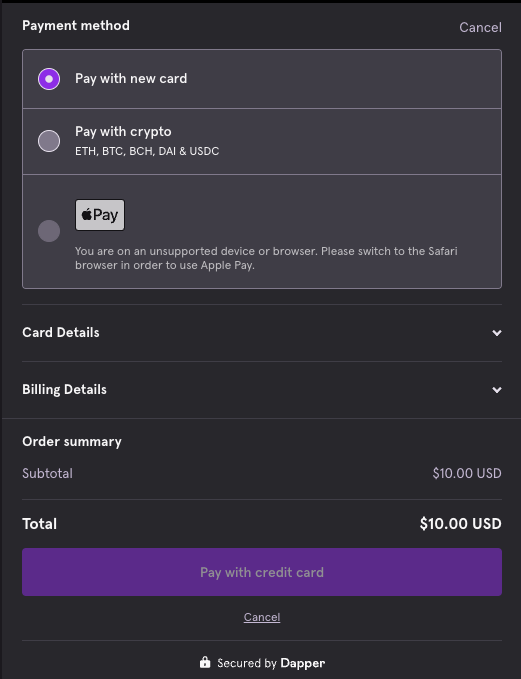 Apple Pay
If you choose to use the Apple Pay option, you will need to ensure that you are using the Safari web browser as other browsers are not supported. Once selected, you will be prompted to select your preferred payment method that you've already added to your Apple Pay.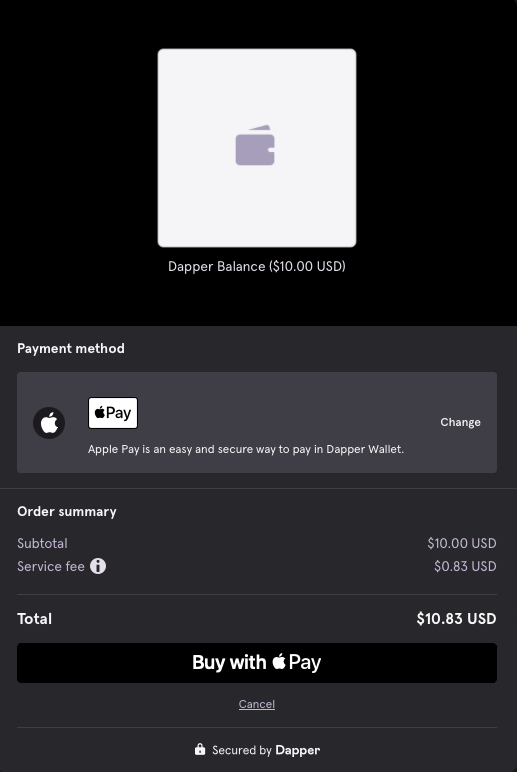 Credit or Debit Card
Collectors can use most major credit or debit card brands (i.e. American Express, Visa, and Mastercard) to make purchases for Dapper products. This includes adding funds to your Dapper Wallet, purchasing packs, and transacting on the marketplace. You will be prompted to provide your card information followed by your billing details.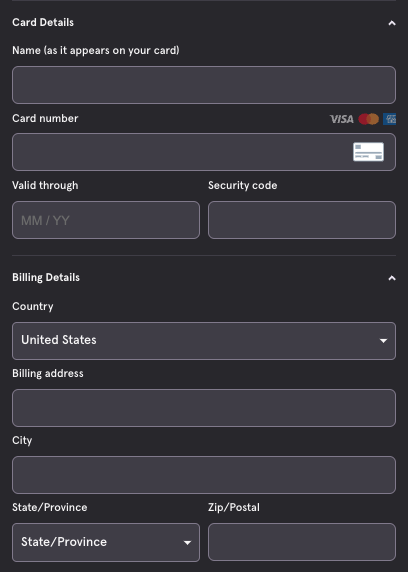 Cryptocurrency
If you choose the crypto option, you will be given info on our supported cryptocurrencies and other related details, before being prompted to enter the Coinbase Commerce flow to complete your payment.
Please note: The cryptocurrencies we currently support are Ether (ETH), Bitcoin (BTC), Bitcoin Cash (BCH), DAI, and USDC. And these are the Ethereum versions of both DAI and USDC – we do not support any other DAI or USDC token variations.
All crypto charges will be shown in USD until you select the cryptocurrency of your choice. It is strongly recommended you pay the full cryptocurrency amount by typing in the full ETH/BTC amount to avoid any errors (under or overpayments). For more details check out our article: Making Purchases With Cryptocurrency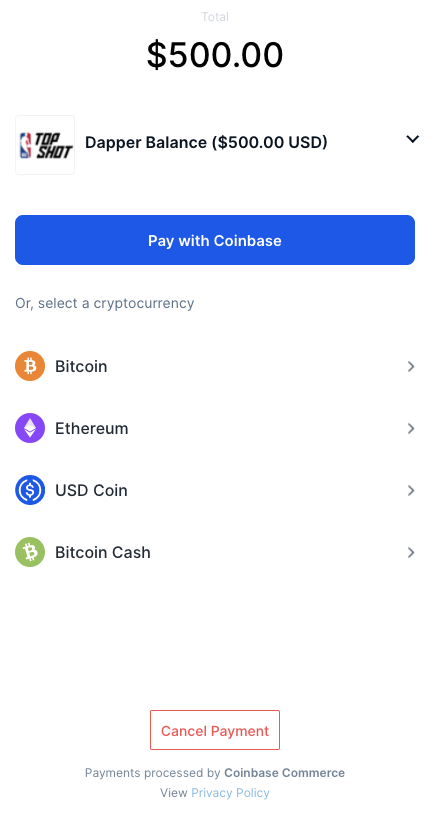 Please Note: The Dapper Wallet is not a cryptocurrency exchange and you cannot purchase or sell tokens within your wallet. Please check out our Terms of Use for more information.