Dapper's two-factor authentication (2FA) provides an additional layer of protection for your information, data, and digital assets.
To set up your 2-step verification for your Dapper account, go to the Security tab of your Dapper Wallet and scroll down to the 2-step verification section. You can also switch your 2-step verification method if you still have access to your account and are logged in by following the same steps below.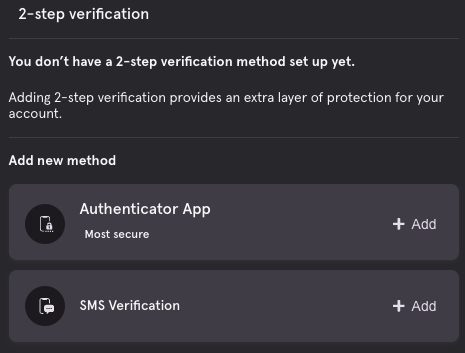 Authenticator App Set Up
1. Select the Add button next to Authenticator App to begin setting up this method.
2. Download and install an authenticator app such as Google Authenticator from your device's app store. For more information on how to do this, please see Google's support page on the process.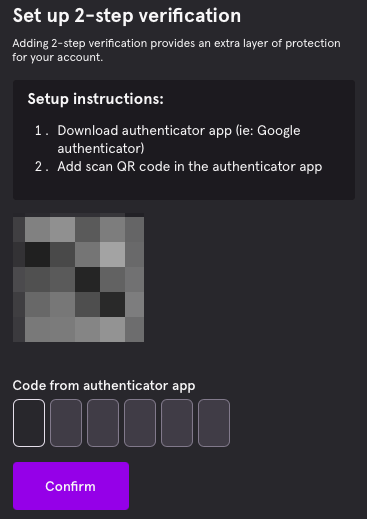 3. Open the app and you should see an option to add an account (in most versions of the app this appears as a plus symbol). Select Scan a QR code and scan the QR code presented to you when prompted to secure your collection
4. Once your two-factor authentication through Google Authenticator is active, you should see Dapper Labs in your Google Authenticator app with a unique code listed underneath.
Please Note: These codes change periodically in order to maintain a high level of security. You are able to tell when these codes will change by looking at the countdown timer that is located near the code. Once this timer runs out, a new code will be generated and you will have to use the updated code to log in.
5. When prompted to, such as during sign-in attempts, enter the code from your Google Authenticator app to securely access your account.
If you need to move your authenticator codes to your new device and still have access to your old device, you can follow Google's instructions here. Otherwise, you can reach out to your authenticator provider for more details on how you can move your authenticator codes.
SMS (Text) Verification Set Up
1. Select the Add button next to SMS Verification to begin setting up this method.
2. Select your country and enter the phone number you want to use. To verify your phone number, you will be sent a text with a code once you select Get SMS verification code.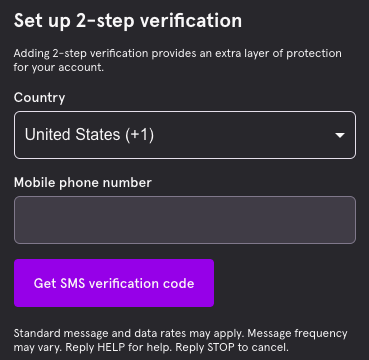 3. You should receive a six-digit verification within 10 minutes. Enter the code and click Confirm.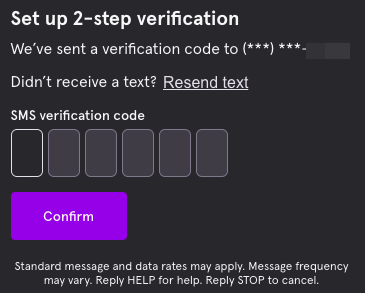 4. Once confirmed, you're all set! The next time you try to log in, you will be sent a new code and prompted to enter it to authorize the login.
Troubleshooting Steps for SMS
It can take up to 10 minutes for your SMS verification code to come through. If it's been more than 10 minutes, here are a few troubleshooting steps to try:
Double-check that the phone number you entered is correct.
If your device doesn't have a strong signal, please try again when you have a better signal. You can also try power cycling your device. Power your phone off, wait 30 seconds, power it back on, and resend the SMS request.
If your device is currently set to roaming, switch back to your provider's main network.
Please access the Blocked Numbers sections of your phone and check if any numbers associated with texts or SMS verification have been blocked. Generally, these numbers are shorter than actual telephone numbers. If you find such numbers, please remove them from the Blocked list, wait 10 minutes, and then initiate the authentication code again online.
If your number is on the "Do Not Call" (DNC) Registry, you might not receive our SMS verification.
Please Note: If you need to use the Resend my verification code feature, space out your retries by 5-10 minutes, or else this could cause the SMS to get hung up.
If our troubleshooting steps don't work, you no longer have access to the phone number associated with your SMS verification, you no longer have access to your authenticator or you have any other issues related to your two-factor authentication, please submit a request to our Support Team.