There are two different ways that you may have used to sign up for a Dapper account: the email and password method or a social account login (Google or Apple ID) method. Depending on how you chose to sign up for an account, you can follow the instructions below on how you can reset your password if you have forgotten it.
Email and Password Method Reset
If you originally signed up using your email address and forgot your password, you can reset it two ways.
If you are logged in, visit your

Dapper account and select the Change Password button under the Security tab.



If you are logged out, head to the Dapper sign-in page here. You will be asked to input the email address you used to create your account. Ensure that the page says "Welcome back!" otherwise, you will be creating a new account. Above the purple Sign In button, you will see the Forgot password? button. Select that, enter your email again, and you will be able to reset your password via the link sent to your inbox.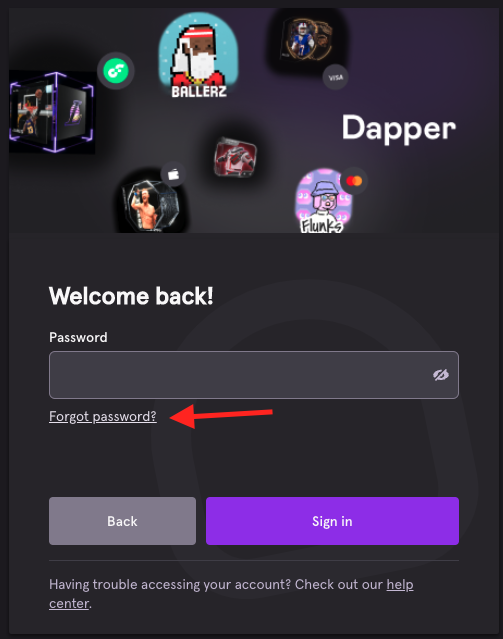 Your password will not be reset until you follow the link sent to you via email. If you did not receive the email, please check your junk or spam folders and whitelist our domains listed here to ensure that they aren't being blocked by your email provider. Also, please make sure you are trying to sign in with the method you originally used (email and password or a social account login).
Social Account Method Reset
If you originally signed up for a Dapper account by connecting your social account (Google or Apple ID), you would not receive a password reset email. Instead, you would need to head over to your Google or Apple ID account to reset your password.​​​​ You can follow the instructions to reset your password for your Google account here or for your Apple ID account here.