Please note: Wire transfer withdrawal options for international collectors are being worked on (date unconfirmed).
Wire Withdrawal Basics
Your identity check must be completed prior to making a withdrawal request.

At this time, we are only able to issue wire transfer withdrawals to bank accounts that meet the following criteria:




Registered to a valid bank that accepts wire transfers. Please note that those that bank or reside in Texas and New York are not currently supported.

The account must be in your name

The minimum amount for wire transfer withdrawal is:

$20.01 for Domestic (US)
$90 for International (Non-US)

$20 USD fee per Domestic (US) and $40 USD fee per International (Non-US) withdrawal
Wire withdrawal requests need to be manually reviewed. Please allow for some processing time between submitting a withdrawal request and having the funds deposited in your bank account.
The name on the receiving bank account must match the name on the ID document you used to complete your Dapper ID check. This information is displayed in the Security tab in your Dapper wallet.
Partnering with a regulated financial entity enables us to offer safe and robust options such as

wire

transfer withdrawals. As such, please know it is required to collect verification information such as a Social Security Number when adding a new bank. Any subsequent withdrawals to your added bank would not require verification information.
This is a separate process from the Dapper ID Check so it is expected that you would need to submit some information you would have provided before.
We do not currently have support for submitting wires for accounts requiring "For further credit to" intermediary bank information.
Failure to meet these requirements could cause a significant delay in receiving your funds or the funds may be returned to Dapper. In this situation, the service fee (waived temporarily for re-launch) would not be automatically refunded.

Please Note: Your statement may not specifically mention "Dapper Labs" when your funds are received. Rather, your statement may mention "Fortress Trust", "BankProv", or something specific to your financial institution.
Making a Wire Transfer Withdrawal Request
To begin a wire transfer withdrawal request, head to your Dapper Wallet and select the Home tab on the left-hand side of the screen. From here, you'll be able to see your total Dapper Balance including both your withdrawable and non-withdrawable balances. Select the Withdraw button in order to begin the withdrawal process.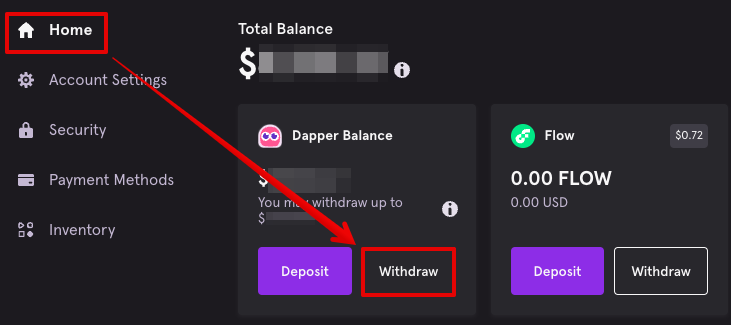 You can also click on the info icon and you'll be given a drop-down that will show you which portion of your Dapper Balance is available for withdrawal or for purchase only (i.e. non-withdrawable).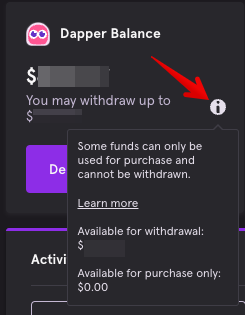 You will be presented with a pop-up screen with the option to select your withdrawal method. Please click the Wire Transfer option and then scroll down to enter the amount you would like to withdraw in the box below Withdraw amount. Once you've decided how much you'd like to withdraw click Continue.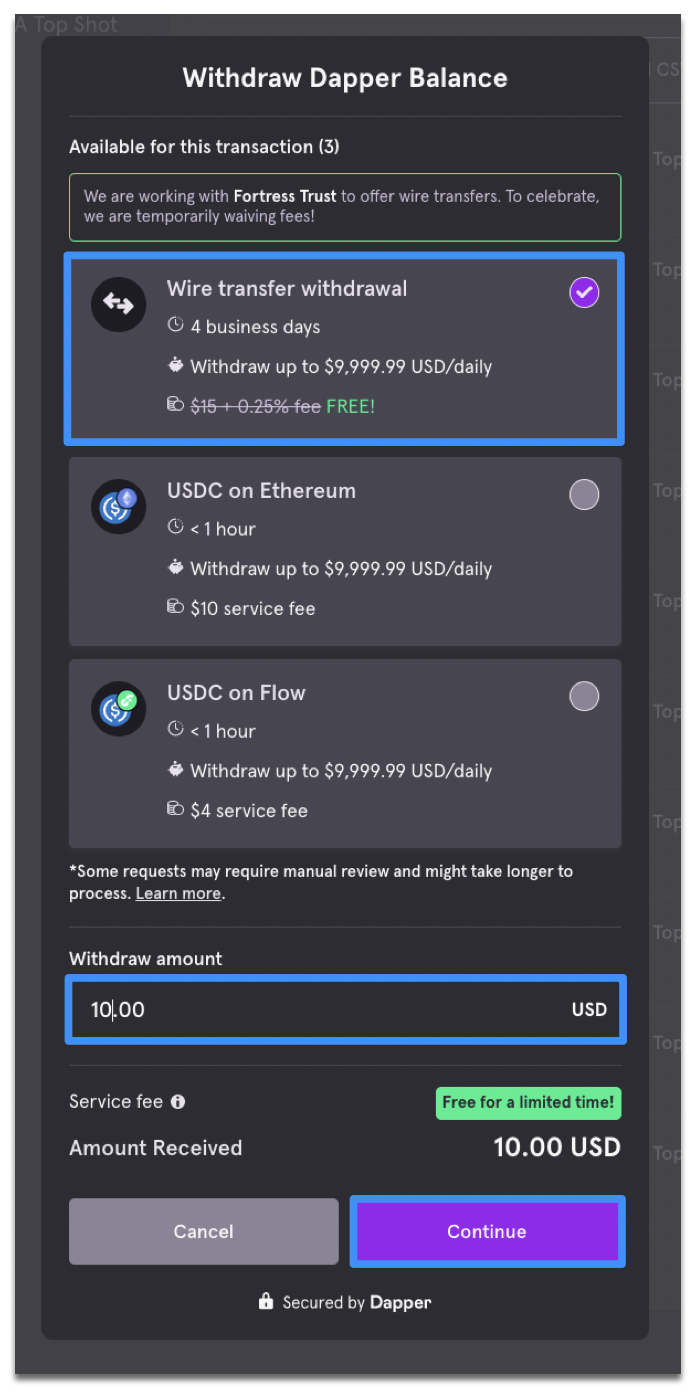 If you don't already have a bank account set up for wire transfer withdrawals, you will be asked to input certain verification information.
Otherwise, if you already have a bank account, you can complete your wire transfer withdrawal request. If your request was successfully submitted you will see a confirmation page afterward.
Adding a Bank Account for Wire Transfer Withdrawals
To add a bank account (US) to Dapper without initiating a withdrawal request:
1. Navigate to the Payment Methods tab in your Dapper Wallet.
2. Scroll down to the Connected Accounts section and click Connect for wire transfer.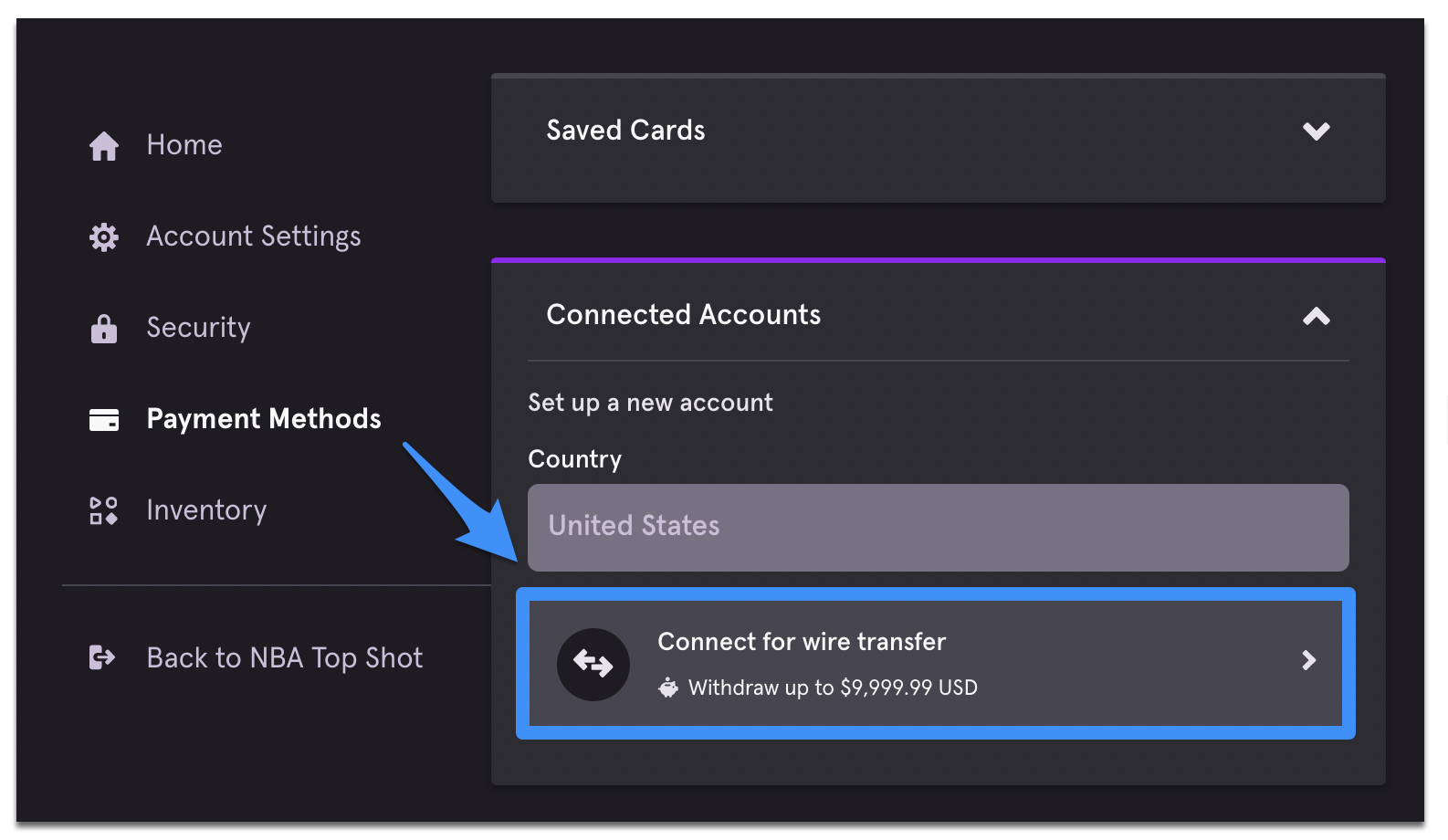 Finally, add the verification information below. Please note, you will see varying modals depending on your country.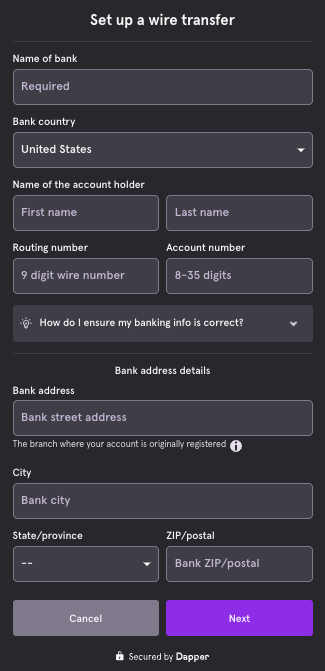 Name of bank
Name of the account holder: This name must match the name specified on your bank account and the name on the ID document you used to complete your Dapper ID check. This information is displayed in the Security tab in your Dapper wallet.
Routing number: This number is based on the location of your bank account. If your bank provides multiple routing numbers, please use the one for domestic wire transfers. The correct routing number may be different from the one you normally use for ACH or that is displayed on a check. If unsure, please be sure to contact your bank to verify the correct routing number. Most banks provide FAQs detailing routing numbers.
Account number: This is your unique identifier at your bank. It is often the middle number on the bottom of a check and is usually 4-17 digits in length.

Please note

: Our Payment Provider can only accept account numbers that are between 7 - 12 digits.
SWIFT Code: Also known as Bank Identifier Code (BIC). You can usually find it in your bank account statements, bank website, or via an online search.
International Bank Account Number (IBAN):

Collectors can find their IBAN on their paper bank statements.

The IBAN will look like this: GB12XXXX12345612345678. Please note the bank code and sort code will vary according to your account.

Bank address, city, state/province, ZIP/postal
Phone number
Social Security Number (or ITIN)
Date of birth
Billing address: This billing address must match the billing address you've given to your bank.
Additional Information
To learn more about other possible delays or any potential issues, please refer to this Help Center guide: Locating Your Wire Transfer
If you do not have a bank account in the US that can receive wire transfers, you may be able to withdraw via USDC.

To avoid delays or your bank rejecting the wire transfer, we recommend that the following information match:




The name your bank has on file

The name entered when completing your withdrawal request

This means that the name entered when completing a withdrawal request must match the name on your bank account. Withdrawals made to a joint bank account may be delayed or returned.

Please Note: If you have a preferred name that you typically use, please make sure to enter the full legal name that your bank has on file. Please see the table below for clarification.
Name
Will the transfer succeed?
Withdrawal Request
Bank Account

Bill Doe
William Doe

No
Withdrawal Request
Bank Account
William Doe
Bill Doe
No
Withdrawal Request
Bank Account
Bill Doe
Bill Doe
Yes
Withdrawal Request
Bank Account
William Doe
William Doe
Yes