Withdrawal Requirements
In order to withdraw from your Dapper Balance, you must first successfully complete your identity check. Once cleared, you will be able to make withdrawal requests immediately. If you have not begun the identity check process, you can get started in your Dapper account's Security section.
The minimum withdrawal request amount is $10 USD for USDC (on Flow or Ethereum), $20.01 USD for a Domestic (US) wire transfer withdrawal, $90 for an International (Non-US) wire transfer withdrawal, and $8.01 USD for bank account (ACH) withdrawals.
Please note: Only one withdrawal request can be made at a time.
Make a Withdrawal Request
To begin a withdrawal request, head to your Dapper Wallet and select the Home tab on the left-hand side of the screen. From here, you'll be able to see your total Dapper Balance including both your withdrawable and non-withdrawable balances. Select the Withdraw button in order to begin the withdrawal process.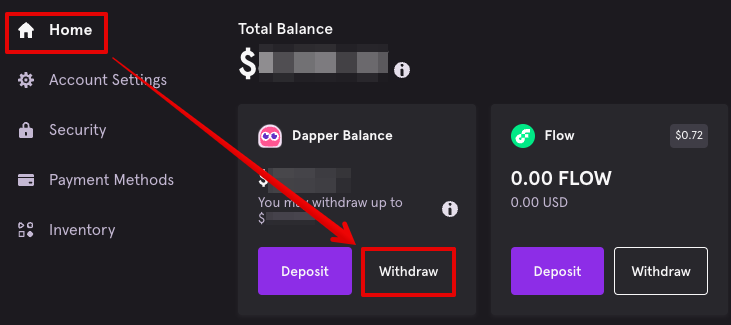 If you click on the info icon, you'll be given a drop-down that will show you which portion of your Dapper Balance is available for withdrawal or for purchase only (i.e. non-withdrawable).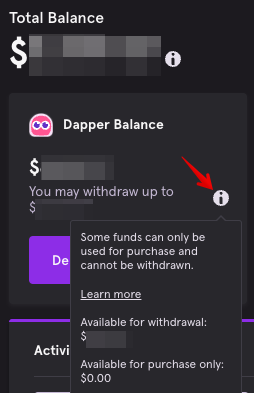 Once you begin the withdrawal process, you will be asked to select the method of withdrawal. When you decide on the method that best suits your needs, you will input the amount that you would like to withdraw. After inputting the withdrawal amount and clicking on Continue, you will follow the next steps based on the method you have chosen. Check out our Withdrawal Options section below for more details about each withdrawal method.

Non-Withdrawable Dapper Balance
Your non-withdrawable Dapper Balance are funds that must be used for purchases and cannot be withdrawn. These are funds deposited into your Dapper Balance from various promotional campaigns or directly from your linked bank account.
For more on your Non-Withdrawable Dapper Balance, click here.
Withdrawal Options
We currently offer the following withdrawal options:
Please note: Each withdrawal request is reviewed. This allows us to ensure the safety of our community and comply with financial industry regulations. You will receive a confirmation email as soon as your withdrawal request has been processed.
Withdrawal Processing Times
Once your withdrawal has been processed and you have received a confirmation email, the receiving party will need to process the transaction as well. Standard processing times are listed below:
USDC: Up to 2 business days
Wire Transfer: Up to 10 business days
Bank Account (ACH): Up to 5-10 business days
Please note: These are estimates of standard processing times. Weekends, holidays, and other factors may delay transactions being processed.
Withdrawal Fees
The following processing fees are charged for each withdrawal option:
Bank Account (ACH): $8 USD fee per withdrawal
Wire Transfer: $20 USD fee per Domestic (US) and $40 USD fee per International (Non-US) withdrawal
USDC on Ethereum: $10 USD per withdrawal (Which varies depending on Ethereum network fees)
USDC on Flow: $4 USD per withdrawal
Please note, that many banks and credit unions charge their own processing fee to receive a wire transfer (this cannot be waived). USDC withdrawals may also incur additional fees from your wallet provider.