USDC on Flow is now available for withdrawals from your Dapper Wallet and completing your Identity Check, as with any withdrawal option, is required. The withdrawal fee for the USDC on Flow method is $4 per withdrawal. As USDC on Flow is still new, further dApps support will arrive shortly.
Making a USDC on Flow Withdrawal Request
To begin a USDC on Flow withdrawal request, head to your Dapper Wallet and select the Home tab on the left-hand side of the screen under the Dapper Balance section. From here, you'll be able to see your total Dapper Balance including both your withdrawable and non-withdrawable balances. Select the Withdraw button in order to begin the withdrawal process.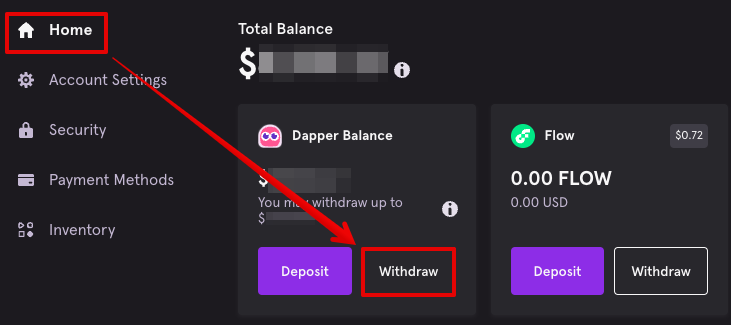 If you click on the info icon, you'll be given a drop-down that will show you which portion of your Dapper Balance is available for withdrawal or for purchase only (i.e. non-withdrawable).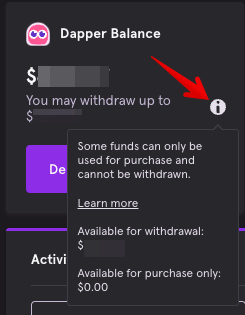 Once you begin the withdrawal process, you will be presented with a pop-up screen with the option to select your withdrawal method. You may need to scroll down to click on the USDC on Flow option. Insert the amount you would like to withdraw in the Withdraw amount box. You will also be shown the amount you will receive after fees are taken. Select Connect Wallet to continue.
Please Note: You must withdraw a minimum of $10, and there is a $4 service fee.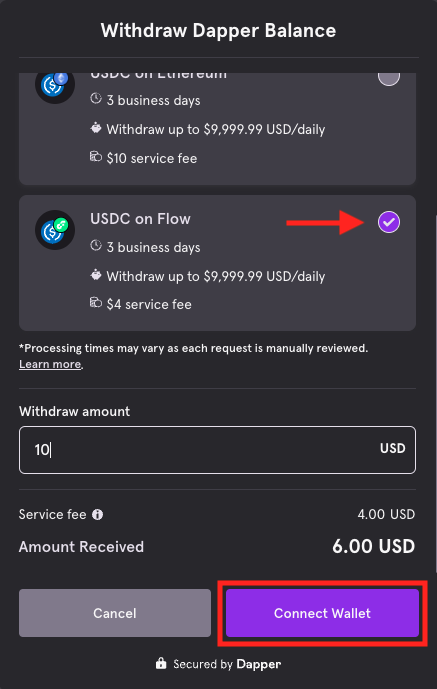 You will then be taken to a pop-up screen where you can either select a supported wallet that you have already connected or set up a new connection. Finally, once the request is approved, the USDC will be sent to the wallet you've selected for deposit.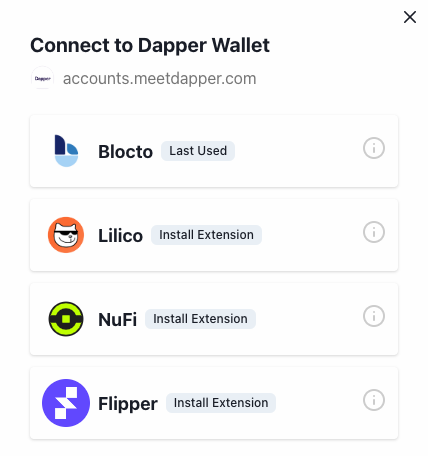 Please Note:
Depending on the browser you use, you may not see the full list of supported wallets. You can use a Chrome browser to view any wallets that we currently support.
Ensure that you have sufficient storage before attempting a USDC on Flow withdrawal otherwise, your transaction will fail. Storage capacity can normally be increased by simply depositing a small number of Flow tokens into your wallet (i.e. 0.10 Flow).
Connecting a Wallet
When looking to make a USDC withdrawal through Flow for the first time, you will have to connect a supported wallet before making the withdrawal request. Once you have selected the wallet you'd like to use, you will be asked to sign in and approve the wallet for transactions. When your wallet is successfully connected, you will be able to see the wallet available at the bottom of the withdrawal page.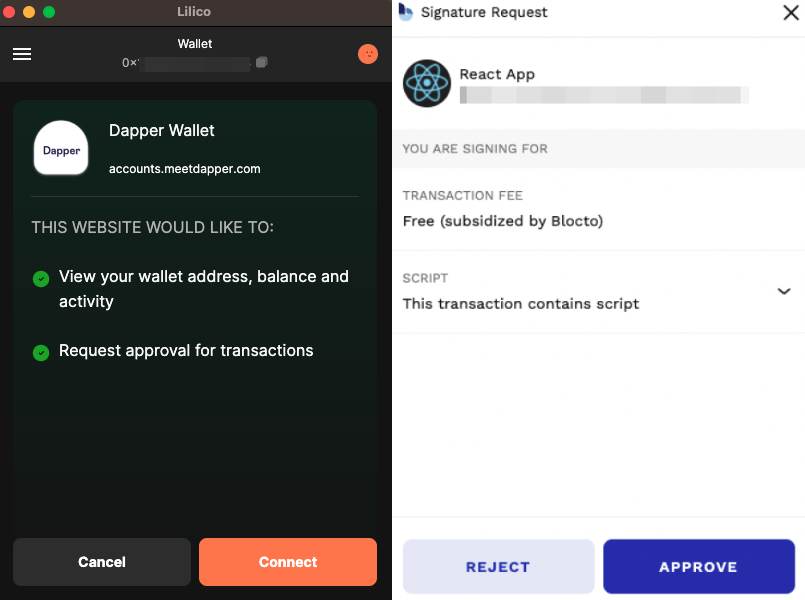 Viewing Funds in Your Connected Wallet
In order to view and access your Flow USDC within your connected wallet, you will need to ensure that you have added the Flow USDC token to your wallet. We recommend adding the Flow USDC token to your wallet first before beginning your withdrawal to avoid any failed withdrawals.
We have included the two most common wallet instructions below. For all other supported wallets, please reach out to your wallet provider for further instructions on adding the token to your wallet.
Lilico
You will need to access the Lilico extension in your browser to add the token to your wallet by signing in. Next, select the plus button under the activity tab in the right-hand corner and then search for the Flow USD token. From here, you will be asked to enable the token and once you click on Enable, the token will appear on your homepage.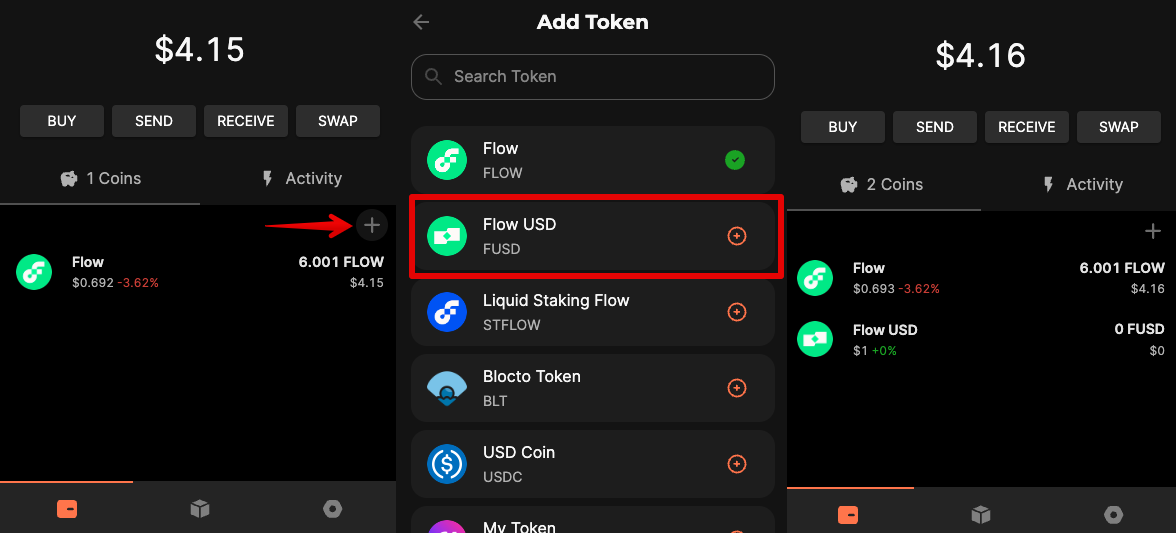 Blocto
In your Blocto wallet, you will need to download the Blocto app here to add the Flow USDC token to your wallet. Sign in with the email address associated with your Blocto wallet and then enter the verification code sent to your email. From there, click the wallet icon at the bottom of the screen. On the top right-hand side, select the plus icon to search for USDC - Flow FT.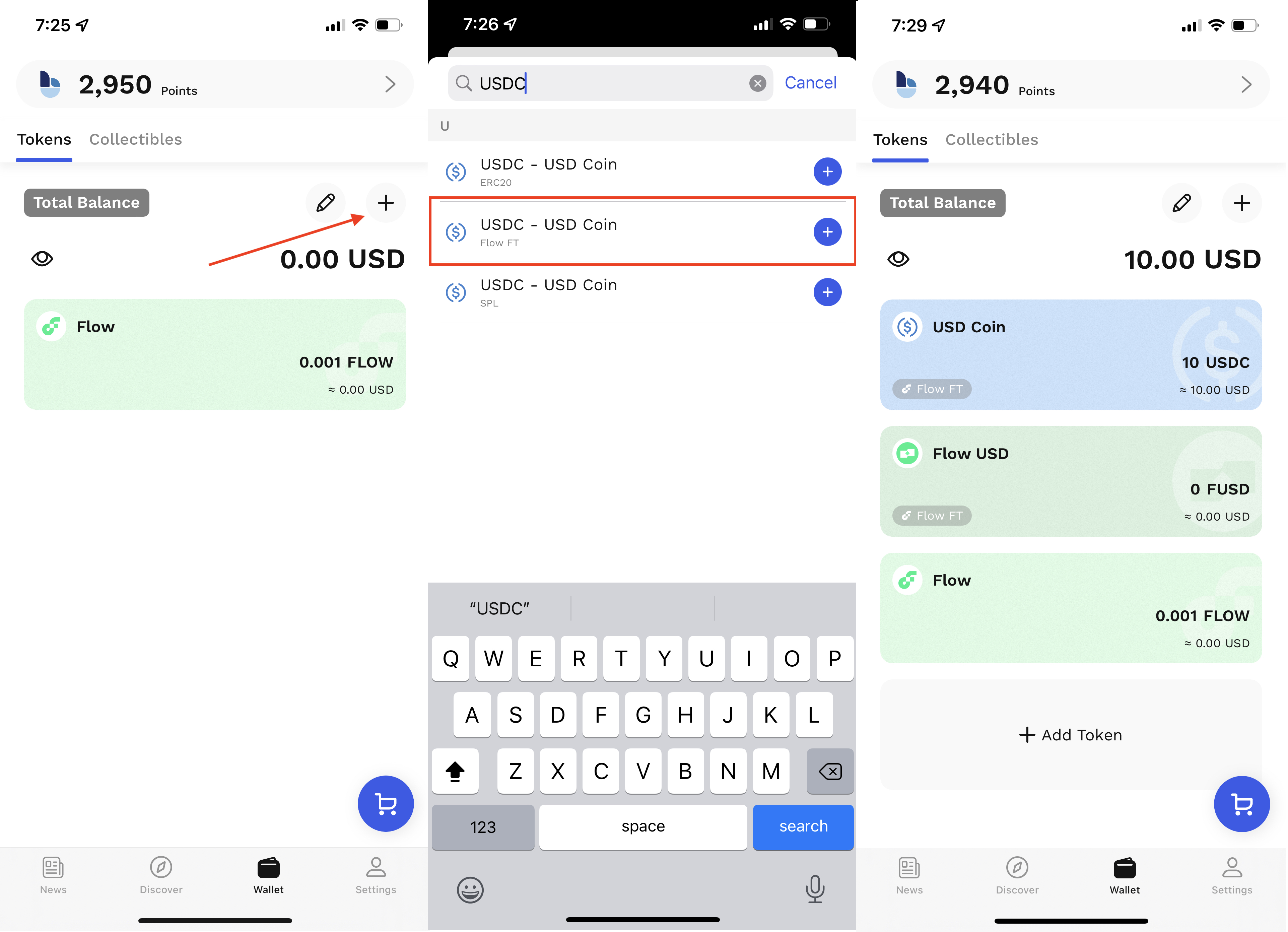 Once the above steps have been completed you should see your Flow USDC reflected in your wallet.
Bring Your Funds Back into Dapper
Convert your USDC or FUSD into FLOW using an exchange (ex. Bloctoswap if you're using Blocto). You can skip this step if you already converted your USDC into FLOW when you withdrew your funds.

Send your FLOW to yourself at an exchange that supports FLOW, like Binance or Kraken.

Then, exchange that FLOW for BTC, ETH, DAI, BCH, or USDC (on ETH).

Finally, log in to Dapper and purchase Dapper Balance using the crypto payment option. This will be done through Coinbase Commerce. During this process, you will have the ability to transfer funds from another exchange (ie. Binance or Kraken) to Coinbase in order to facilitate the payment.
FAQ
Withdrawal requests are manually reviewed. Please allow for some processing time between submitting a withdrawal request and having the funds deposited in your digital wallet.

If you haven't already completed your identity check, you will be asked to do so before your first withdrawal. For more information on this process, click here.

Only USDC withdrawals are available on Flow at this time, deposits will come in the near future.